Trainer Paul Peter's reigning South African Horse Of The Year Summer Pudding is to be aimed at the Gr1 Paddock Stakes and the Gr1 Cape Met down South, after taking on the males for the first time in the R1 million World Sports Betting Gr1 Gauteng Summer Cup at Turffontein on 28 November.
Summer Pudding steps out at Turffontein on Saturday in a quality Fillies & Mares Pinnacle Stakes over a mile.
Speaking to the Sporting Post on Tuesday, trainer Paul Peter said that this would be his star's final prep prior to the Summer Cup three weeks thereafter.
"She has been off for four months and has enjoyed a lovely break. She has been back with us going on eight weeks and on Friday 22 October we put her on the grass for the first time this season. She completed a pleasing gallop over the 1400m here at Turffontein. She is in good shape but naturally not 100% fit and the mile will be on the sharp side for her on Saturday. I'm expecting her to go well though," added Paul Peter.
 R85 000 1600m 14:50 Ref-308
1st R51000, 2nd R21250, 3rd R8500, 4th R4250
CHAMPION STAYER: OUT OF YOUR LEAGUE PINNACLE STAKES (F & M)
For Fillies and Mares
WFA: 3yrs-7kgs 4yrs-0kgs
1
4
Summer Pudding
62
117
A
W Kennedy
Paul Peter
2
6
Lady Of Steel
60
113
A
G Lerena
J A Janse van Vuuren
3
5
Mount Laurel
60
112
A
L Hewitson
Gary Alexander
4
2
Chitengo
60
110
BA
S Khumalo
Alec Laird
5
7
Rouge Allure
54
99
TBA
M Yeni
Stephen Moffatt
6
3
Elusive Force
54
96
A
*L J Ferraris
Paul Peter
7
1
Destinys Game
50
89
A
*J Gates
Paul Peter
Same Trainer – Not Coupled on Tote
(1,6,7)
The superstar daughter of Silvano, undefeated in her seven starts to date, was sent for a rest at her birthplace Mauritzfontein after winning the Gr1 Woolavington 2000 in sensational fashion last term.
She thus last saw race action on 28 June
Her trainer confirmed that, all going well and dependant on the movement protocols, Summer Pudding will be heading to Milnerton and trainer Eric Sands for the Cape Summer Season.
"It won't be a raid. She will be based there for the season. Eric (Sands) is one of the best trainers around, and he is a good friend and trusted colleague with an exemplary Gr1 record. Summer Pudding will be in good hands," assured Peter, who said that they had tried raiding the Cape Summer last season with the highly-rated Sarah, and it had not really worked out as planned.
The Gr1 Paddock Stakes and the Gr1 Cape Met will be run on 9 January and 30 January, respectively.
It's quite a busy four months for the champion.
But Paul feels that the races are well enough spaced and she is a 'tough and laid-back lady'.
Her trainer is enjoying a terrific season. He currently tops the SA national log ahead of former champion, Justin Snaith.
His 37 winners at a strike rate of 14% for over R2,2 million in stakes are a pleasing state of affairs, given that he has a few gems in the wings.
Paul has over 150 horses and says that he is excited by the level of fire power amongst his unraced horses.
In an interesting heads-up for followers of the yard, he says that he has a 'few Triple Crown and Triple Tiara candidates' amongst his unraced stock.
"We have recently had some nice rain and the ground is kinder. We will be bringing out the big guns soon," he added with a smile.
Referring to his Peermont Emperors Palace Charity Mile day success – he won the Ready To Run Cup and the Listed Golden Loom – he said that both of his winners would be worth following.
He is particularly excited about the Willow Magic colt, MK's Pride, who banked the R450 000 first cheque in a thrilling finish to the BSA sales race to beat the Gr1 star filly, War Of Athena.
"He ticks all the boxes. He is laid-back, athletic, talented,  and is very progressive. I am thrilled for my new owner Koos Nkale and his family. He bought a well-priced horse loaded with ability – at his first try! It doesn't get too much better than that. MK's Pride pulled up well and emptied the manger on Sunday morning. He will go for the Gr2 Dingaans next on Summer Cup Day and will love the mile," says Paul.
Winning Form jockey Warren Kennedy rode both the Paul Peter Charity Mile day feature winners, the second of which was the Bold Silvano gelding Bold Ransom.
"The Listed Golden Loom was his first stakes success and he won well. Look, he carried only 52kgs and I am going to keep him to the handicap route for now and let him mature and build his confidence. I am not looking at the Computaform Sprint, for example. We may go for the Merchants on Summer Cup day."
With one of the most powerful strings in the country, Paul Peter is living a dream that started a decade ago after working in the paint industry – something that didn't exactly blow his hair back, if you get the picture!
He was born into paint and racing, but the latter is the big winner for him.
Paul's late father Tony was a big punter. He never missed a meeting, and his brothers Gerard, Johnny and Dominic are also big racing fans.
"I've loved horseracing since I was a little boy. You had to be 18 years old to get into the racecourse, but Dominic Zaki and I used to sneak in – we often got kicked out as well! But we were there again the next weekend. I was a shareholder in the family business, Hyper Paint, for 20 years. My heart wasn't in it – I always knew that eventually I would become a trainer. Then my brothers started supporting me and that's when I started training."
James Maree taught Paul most of what he knows. He was also assistant to Koos Rossouw and spent the last two years of his 'apprenticeship' back with the Maree team.
Rocabar was his first ever runner on the Vaal sand on 8 April 2010 and finished eighth, 18 lengths behind Single Minded.
Assisted by his son Tony, the Glenvista-based Paul Peter has come a long way in a decade!
‹ Previous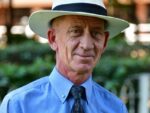 Hoffie's Cooking Up A Storm