Proud of her rock solid educational foundation, and with a pedigree boasting old-fashioned family values and a love of horses, Paarl Diamant Estate's Monique Schabort is a relatively new generation player in the horseracing game.
Meeting the vivacious platinum blonde Mom of two, Monique Schabort, at the main house on the magnificent 300 hectare estate that transcends both sides of the R44 between Klapmuts and Wellington, a sense of warmth and salt-of-the-earth hospitality is tangible.
Her Public Relations training shines through as she welcomes the SP Team in queen's English, tinged with a blemish of homegrown Paarl.
Imagine living and working in god's country – that's our initial rhetoric while absorbing the picturesque surrounds.
"I have been in the area most of my life and appreciate the beauty of it every day. I was born in Robertson and we moved to Paarl when I was 2 years old. My late Mom worked for KWV for roughly 35 years and my Dad owned a couple of car dealerships in Paarl. I went to Paarl Gymnasium all the way through from Grade R to Grade 12 and then went on studying public relations in Cape Town. So I am a proud 'Gimmie' forever," proclaims the 37 year old who was born Monique Viljoen – until meeting her Equine Dentist husband Louw Schabort 16 years ago.
In racing parlance, 'Gimmie' is often an affectionate reference to the top-class Aussie bred Varsfontein stallion who lives down the scenic road that winds past the Kotzen's Woodhill Estate, in the vicinity of the Garlicki's Connemara Stud and the Andrews' Sorrento.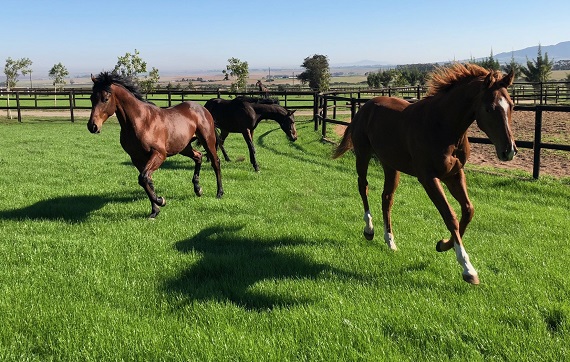 But in this case it is actually a proud label worn by alumni, like Monique, of the historic school in the centre of Paarl that many of us Southern Suburbanites dreaded meeting on the sports pitch. These were the maroon, gold and green fields in the shadow of the Paarl Rock that produced the likes of Schalk Burger, Jean De Villiers, Marius Joubert, Handré Pollard and De Wet Barry.

Monique explains that Paarl Diamant has been in the Schabort family for many decades and as a result of an availability of land, coupled with a confluence of dreams and opportunities, they decided a few years back to up the ante and diversify.
"There was cattle on the farm and we were growing oat-hay and other crops – but there was always the nagging desire to bring in the horses. I had been with Pioneer Foods for over a decade and my kids – Lowen is 5 and Sophia is 2 – were getting to the age where I wanted to be more involved in their lives. So the planets were aligned to introduce the horses and for me to get involved and make the move out of the corporate environment."
So she and husband Louw – a highly regarded Equine Dentist – took the plunge into a whole new world and on Friday 23 November will attend their fourth sale.
The farm has a professional and world-class infrastructure with 48 stables, irrigated grass paddocks, smaller paddocks for rehab horses, lunge rings and large exercise areas and 24 hour supervision.
"We have done our best to plant plenty more trees. It's not easy with horses, but we are getting there!" laughs Monique as she points out a playful horse fiddling with one of her newly planted trees.
"Our very first sale was last year's RTR sale. Then we attended the mixed sale at Durbanville in July 2018. After that it was the 2yo sale in Johannesburg. We have met lovely people in the industry although it was quite scary going in to the unknown and not knowing many people or having hardly any connections. And wondering if we made the right decision going in the direction of racing. But our business has grown every year since we started and I have to say a big word of appreciation to Joey Ramsden who took a chance on us by sending us our first horses to spell and break-in. We will always be indebted to him for taking a chance on us."
One thing led to another and Paarl Diamant expanded their services offering. They are currently doing Pre-Training, Spelling & Rehabilitation, Broodmare and foal care and Sales Preparation.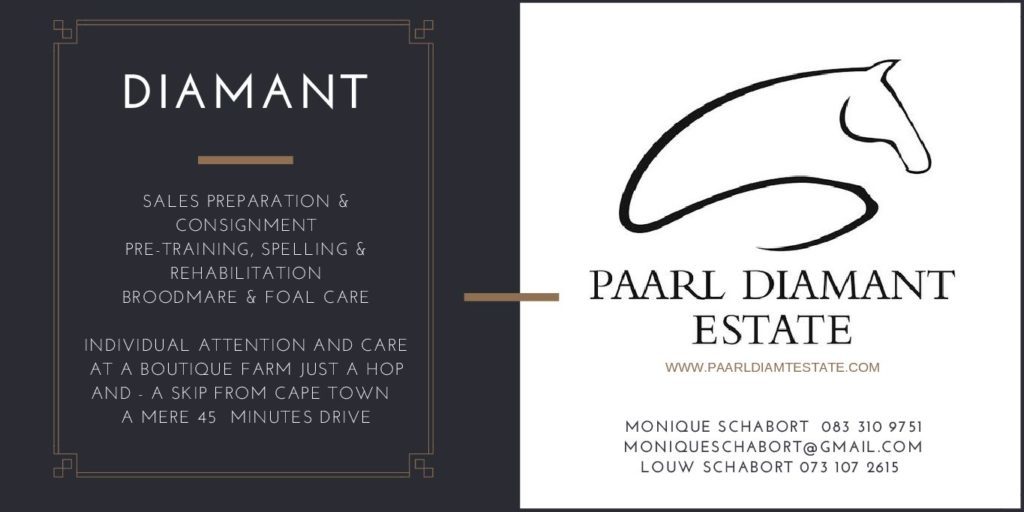 They certainly have enough skill and experience amongst the immediate family.
"My father loved horses and he had some friends who were trainers of American Saddle Horses so he introduced my sister and I to them when I was about 7 years old. I rode for 3 years and then my father passed away when I was 10. I continued riding for another couple of years but lost interest as my father was really the one who encouraged us to ride and compete and my mother was left to raise two little girls on her own. It was very tough for her as a working single Mom and she was still expected to take us all across the country to compete."
Monique then met her future husband who was playing polo and polocrosse and he got her into the saddle again and introduced her to Polocrosse.
"I just fell in love with it – and him – and am still competing in Polocrosse today. Louw is a member at Val De Vie Polo Club and he plays polo almost every weekend."
Louw also started young. He was introduced to horses at a very young age as his Mom had a passion for horses and owned a little riding school on their farm.
"I think my husband is one of the most natural horseman I have ever met and he just has an  unbelievable seat and professional style," says the proud Gimmie.
Adding to the family depth of equine strength is Monique's brother-in-law Dr George Schabort, who is a Veterinary Surgeon at Wellington Veterinary Clinic.
"George treats most of the horses on our farm. We mainly use Wellington Veterinary Clinic and Baker McVeigh as our main vets. It sure helps a lot having a vet in the family and he only lives a short distance from the farm which is very convenient in the case of emergencies!"
Her horse dentist husband has been working in Japan for the last 3 years.
"Louw was six weeks on and six weeks off. He worked for a leading Australian there but decided to give up Japan and stay in SA as our new business has grown quite a bit and he does all the breaking -in of the young horses so he is needed at home. He does a lot of horse dentistry in SA still, and  with Gary Waters – so that keeps him busy when he is not breaking in horses!"
Monique is keen to meet more racing and breeding people and has space available for horses.
Her email address is [email protected] – find out more here
Paarl Diamant's Big 4 – Ready To Fly
Monique says there is likely to be value in all four of their quartet at next week's CTS Ready To Run Sale. ''They have been broken in and breezed and look promising," she says.
Lot 34 is Salvadora, a beautiful big filly by Oratorio from Viva La Belle, who is a half-sister to multiple stakes winner Lady Of The Turf from the immediate family of King Of Pain. A strong frame and solid. A very good mover.
Lot 49 is Fort Royal, by Elusive Fort from Among Royalty, by Among Men. Her dam is a half-sister to the exported Gr1 winner Gypsy's Warning, as well as stakes winners Surabi and Romany Prince. She has a 100% record at stud. Beautifully topped filly, nice hindquarters and good rein.
Lot 59 is a VAR colt named Sniper Fire and he's said to be very solid and strong. "He's probably my favourite of the four," said Schabort of Sniper Fire, whose dam First Burst is a half-sister to stakes winner Winter Burst. He's related to several other black-type runners including Quick As Lizard and Burst. Solidly built, strong frame good depth of girth. Lovely mover with a good temperament. From the prolific Gr1 winning Burst family
Lot 72 is Elusive Force, a daughter of Elusive Fort, whose fillies are always in demand.  Monique commented: "She's quite a strong-willed dark bay filly, but actually very tame. She's all calm once the saddle is on and looks a racy type. Classy and tall with a nice shoulder and rein and good hindquarters. Very good mover. Staying type and a well-related filly."
‹ Previous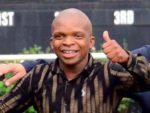 Patience Paves The Golden Road